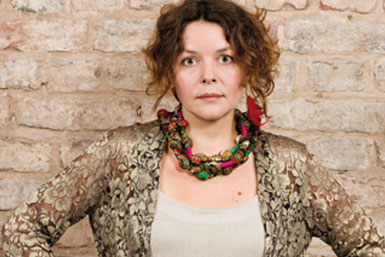 Mariana Sadovska by MEYER ORIGINALS
Mariana Sadovska is an internationally renowned singer, multi-instrumentalist, artist and composer. Born in Lviv, Ukraine, where she was trained as a classical pianist, the Cologne-based artist has continued her artistic journey in various directions. By organizing ethno-musical expeditions in rural Ukraine and Poland, she has collected a large body of traditional songs, stories and rituals that she transforms into modern sounds for today`s generations.
Mariana Sadovska systematically explores and experiments with new sounds. In addition to her outstanding solo performances, international collaborations have led to a variety of successful and fascinating artistic projects, such as her recently composed piece "Chernobyl. A Harvest" commissioned by and performed together with the Kronos Quartet or her "Borderland" project with German jazz musicians. She was awarded the German World Music RUTH in 2013.