She studied German literature and history in Freiburg, later on composition in Cologne with Joachim Ullrich and Siegfried Koepf, Maria Schneider and Jim McNeely in New York and George Russell in Boston.
Christina Fuchs received national and international rewards in composition as "Scrivere in Jazz", Italy and the "WDR Jazzpreis" for composition. Recently she got nominated for the "German Jazz Price" in the category "Best Large Ensemble of the year".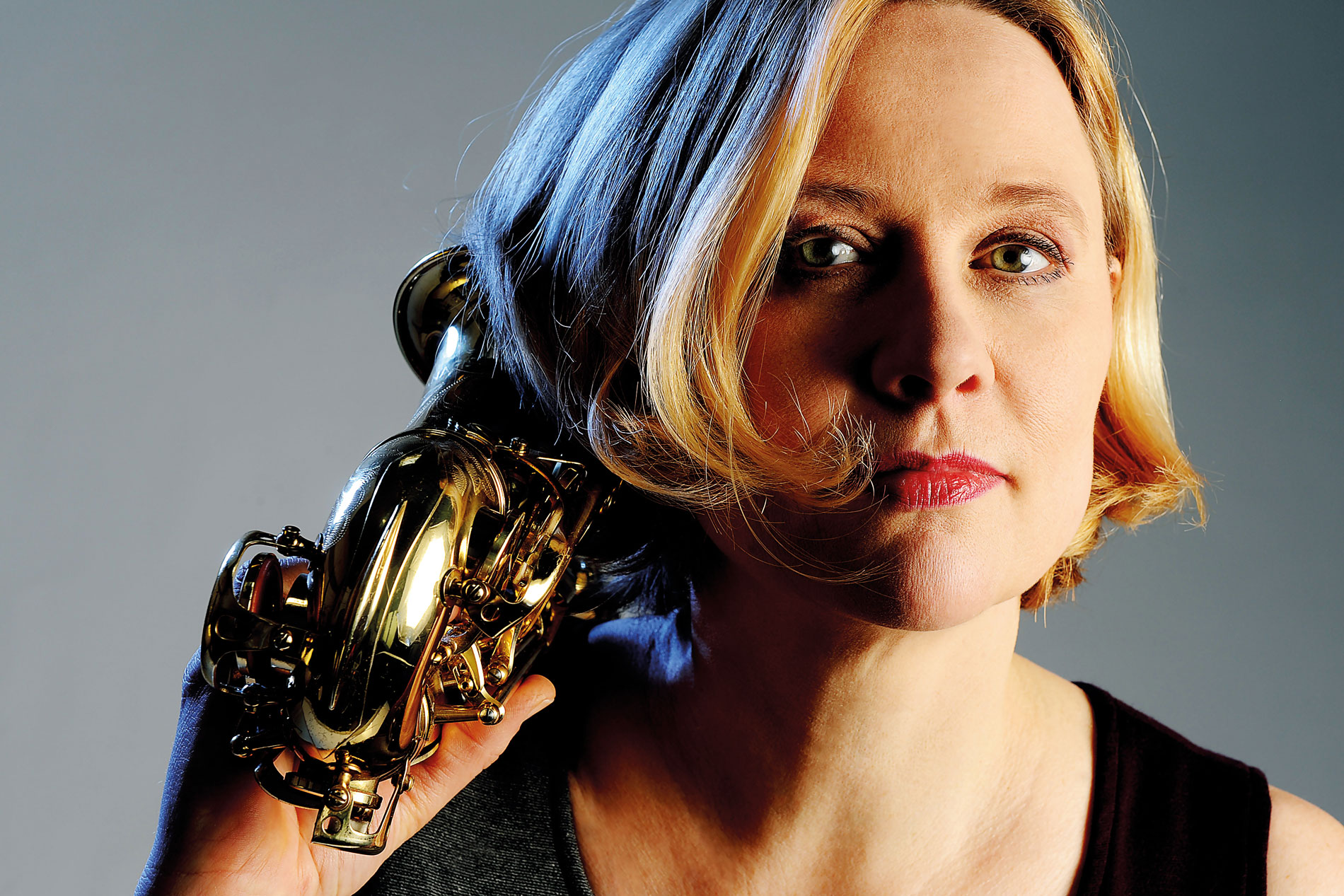 Photo Christina Fuchs by Volker Beushausen
She works as composer, saxophonist and clarinetist in a variety of ensembles in such divers fields as New Music, Theatre, Improvised Music and Jazz.
During the past 30 years Christina Fuchs has developed an instantly recognizable sound and a unique language as a composer. Her work includes traditional concerts as well as collaborations with other art forms, such as dance, visual arts, literature, spoken word, documentaries and theatre. What is common to all of these settings is Fuchs' emphasis on blending written and improvised music.
She is in a leading position for her ensembles "No Tango Quartet", "No Tango & Strings", "Flux", "KontraSax", "FUCHSTHONE ORCHESTRA" and with the musicians collective SONIQ.
Residency in Canada at the Banff Centre for the Arts, 1998/1999/2000
Member of the  BMI Composers Program in NYC, 1999/2000
Winner of the competition contest jazzart NRW, 2001
Julius Hemphill Composition Awards for Large Ensemble (USA), 2002
Residency  at the Art Omi  Music Program, New York, USA, 2003
Residency in Nairs, Art in Engadina Bassa, Switzerland, 2004
Commission for the NDR Radio Big Band, Hamburg, 2005
Residency  at the Künstlerhaus Lukas, Ahrenshoop/D, 2007
Reward "WDR Jazzpreis" for composition, 2014
Residency  at the Leighton Artists Colony, Canada, Banff Centre for the Arts, 2014
1st Price "Scrivere in Jazz", composition, Italy, 2016
1st Price " Seattle Annual Jazz Composition Contest" for Women Composers, USA, 2017
Finalist at the "Neuen Deutschen Jazzpreis" for composition, Germany. Curator: Renaud Garcia-Fons, 2019
Finalist at the "Neuen Deutschen Jazzpreis" for composition, Germany. Curator: Frank Möbus, 2020
Residency at Fundaziun Nairs, Switzerland, 2020
Nominated for the "German Jazz Price" in the category "Best Large Ensemble of the year", 2021