Demian Ornstein is an Argentinian guitarist, composer and arranger, born in Buenos Aires. After studying with Osvaldo Mollo and Lito Epumer, he moved to Barcelona where he approached flamenco and improved jazz technique and improvisation attending the Taller of Musics of the same city. In 2007, he returned to Argentina and dedicated himself entirely to the study of Argentine and Latin American rhythms in the renowned EMPA (School of Popular Music of Avellaneda) where he graduated as Instrumentalist of Popular Argentine Music.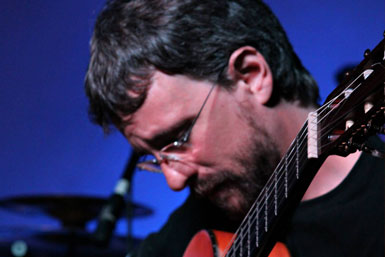 Photo Demián Ornstein by Tercer Ojo
The compositions and arrangments of Demian Ornstein denote his personal life experiences and summarize the richness of the sound world that is part of his evolution as a musician. This means that within a distinct acoustic sound also chacarera, zamba or candombe rhythms are blended, together with jazz harmonies, flamenco melodies, tango cadences, where improvisation and expressivity always play the leading role. As a professional, he participated in different jazz, tango and folklore musical projects presented in several stages in Europe and South America. He is also a guitar teacher and professor at EMPA in Buenos Aires.
In 2008 he took part in the International Eisteddfod Festival, Llangollen, Wales (UK) together with Nicolás Argonz (singer). In 2009 he was invited to play at the Thelonius Jazz Bar, Ciudad de la Paz, Bolivia together with Martín Satorre (double bass player). In 2012 he released his first CD named "DeIda y Vuelta", in collaboration with the Demian Ornstein Trio and other invited musicians such as Quique Sinesi, Bernardo Baraj and Patricio Villarejo.
In 2013 he was the musical director and arranger with the singer Celeste Táboas in the production of her CD Interior. In 2016 he participated in the Buenos Aires Jazz Festival at the Vinilo Cafe with Jarry Singla, Facundo Guevara and Mono Hurtado. Also, he took part in the Mar del Plata Jazz Festival at the Colon Theatre with Nicolás Croci and Jarry Singla.
Today, he is the leading part of the Confluencia Project together with Nicolás Croci (drummer), where he shares his music with other national and international artists such as Jarry Singla (Germany), Hikaru Iwakawa (Japan), Aleix Durán (Spain), Iván Katzman (Argentina), among others.
" … with an acoustic sound, Ornstein shows to be a virtuoso guitarist and composer. His music combines expressivity and quality of interpretation …" Journal Tiempo Argentino.