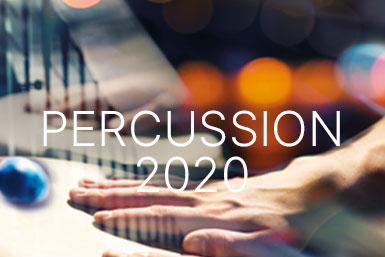 It is ancient. It reaches back into mythology and is simultaneosly an object of itself. It is universal. Whether in Asia, Africa, Europe, North or South America: the drum existed and still exists on every continent. Percussion connects different  parts of the world and at the same time separates them through the various uses and infinitely diverse forms of the instruments. To drum means nothing other than to imprint a division on the flow of time. No matter where someone is born or where one listens to music, percussion instruments are omnipresent.
Percussion! In this project, the musicians of the Collective SONIQ  – Christina Fuchs, Jarry Singla and Ramesh Shotham – paid homage to the elemental force of rhythms and drums of this earth, to the origins of music.
SONIQ invited two outstanding musicians: The Moroccan Rhani Krija, one of the most sought-after international percussionists (world stars like Sting, Dominic Miller or Al Di Meola invite him regularly), and Stefan Bauer, a vibraphonist and marimba player from North Rhine-Westphalia, who has lived in New York City for a long time. He is active in a broad field between tradition and avant-garde. He has collaborated with jazz greats such as Kenny Wheeler, Adam Nussbaum and Charlie Mariano.
"…..limitless curiosity….unbridled and spirited playing….. on the stage a lot of adventurous playing between equals…..genuine world-class musicians." (Stefan Pieper / Journalist)
Photos Stefan Bauer Volker Beushausen und Jürgen Bindrim